What is a DTF printer machine?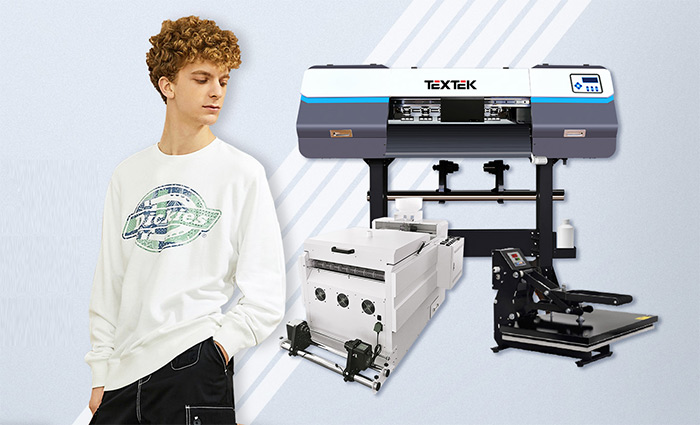 DTF Printing, also known as Direct To Film Printing, works by hot-pressing transfer pieces onto a variety of garments (and other substrates). When you have this kind of machine, you can print on any kind of fabric, dark or light. You can have more varieties in your product line. Saving on labor costs, one employee can operate the machine.
Applicable scope: T-shirt, pants, bags, leather, advertising shirt customization, cultural shirt customization, fashion children's wear, fashion women's clothing and so on.
How much does a DTF printer cost?
The price of a DTF printer is about 3000-7000 US dollars. At present, most dtf printers on the market use Epson print heads, and the price will vary depending on the configuration. As for the cost, it mainly refers to the loss of ink and print heads, air permeability and color fastness. Personally, I think the choice of ink is more important than the machine, because the quality of the ink determines the color.
How DTF Printer Works?
First, implementing printer DTF in your printing business does not require a significant investment. Whether you're new to printing or looking to adjust your DTF printing to expand your business, it's worth your time to take a closer look at these printers.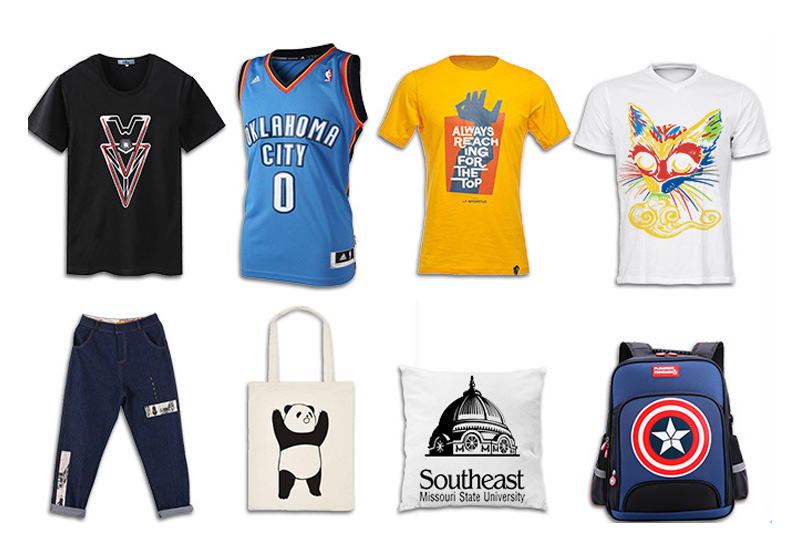 Film of a direct film printer
DTF printers use PET films because these are different from those used in screen printing. PET film is about 0.75 mm thick, giving it better transfer characteristics. These films are also marketed as DTF transfer films.
You can find them as cut pieces for small scale use or as reels for large commercial Settings. There are two classifications of PET films based on temperature. These are cold and hot stripping films.
Software for DTF printers
Software is an integral part of a DTF printer. This is because the software affects color performance, printing characteristics of the ink, and the final printing performance. For DTF printing, you will need special RIP software to handle your white and CMYK colors.
This is crucial because the software controls color analysis, drop size, amount of ink and several key factors that contribute to print quality.
Hot-Melt Adhesive Powder
Direct film printing powder is a white granular product that can be used as an adhesive material. This helps bind the color pigments in the printer to the surface you are printing. However, this STF hot melt adhesive comes in several grades in microns.
DTF printer ink
The inks used in DTF printers are unique pigments designed in cyan, yellow, magenta, white and black. White ink forms the basis of the print, while colored pigments print the design on the film.
Automatic Powder Shaker
This direct film printer component is common in commercial applications (DTF printers apply powder) in a uniform manner. In addition, the shaker can remove excess powder.
Curing oven
This is a small industrial oven used to melt the printer's hot melt powder and then place it on the transfer film. Alternatively, you can use a hot press to achieve this function. However, it helps if you use a hot press in contactless mode.
Heat Press Machine
This device helps transfer the printed image from your film to the desired surface or fabric. You can also use this machine to melt powder on your DTF film.
Direct to Film printing process

Print on Film: Instead of using ordinary paper, you should use PET film. First, you print the entire image on PET film, on a white background.
Spread the Powder: This step is to pour hot melt powder onto the film. When printing a wet image, you should make sure that all the force is evenly distributed to the surface.
Melt the powder: Literally, momentum is melted in this step. For best results, you can melt the powder as requested by the manufacturer. The heating process usually lasts two to five minutes and the temperature is about 160 to 170 degrees Celsius.
Pre-press the Fabric: Prepressing means prepressing the fabric before transferring the image. The texture is pressed in a hot press for 2 to 5 seconds in order to dehumidify the fabric.
Heat transfer: This is the core step of DTF printing, where PET films with images and melted powder are placed on the fabric. The film adheres firmly to the fabric for about 15 to 20 seconds in a temperature range of 160 to 170 degrees Celsius.
Cold Peel: What's more, you need to make sure the film is cooled to room temperature before you pull it off.
Post-pressing: This is an alternative method, but you can get the best results, such as water washing and rubbing fastness. In this step, the final fabric with the transfer design is pressed in a hot press for about 10 to 15 seconds.
Printing knowledge